The mission of the URI Orthopaedic Residency Program is to inspire and empower the resident to reach their full potential as a clinical specialist in orthopaedic physical therapy. We are committed to developing passionate, skilled, evidence-based clinicians that demonstrate the highest form of professionalism.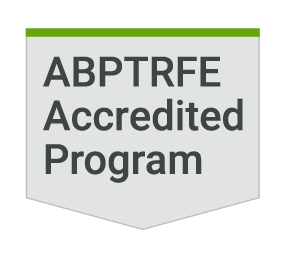 The Upstream Rehab Institute Orthopaedic Physical Therapy Residency is accredited by the American Board of Physical Therapy Residency and Fellowship Education as a post-professional residency program for physical therapists in orthopaedics.
Description
The URI Orthopaedic Residency Program is a 12-month program in a blended learning environment. Didactic course content is delivered both via independent and live online programming as well as 6 weekend intensive labs. 150 hours of 1:1 mentoring is provided to each resident by a board-certified mentor approved by the program.
Program Directors 
Our Orthopaedic Residency Program has two directors, each with the experience and passion needed to help residents take their clinical expertise to the next level.
Location
The Orthopaedic Residency is able to be completed in virtually any location. Currently we have sites in AL, AR, CO, GA, KS, KY, MD, MO, NC, OH, OK, OR, PA, SC, TN, TX, VA, WA. Each year the program is anticipated to have additional sites. Please make sure to contact us for specific locations.
Program Outline
Residents are employed by an Upstream Rehab partner clinic and provide full-time patient care in one of these outpatient facilities.  Knowledge development of foundational skills, current best-practice patterns and group discussions occur on our online platform throughout the 12 month program.  Six resident-only labs occur regionally throughout the curriculum and cover topics including clinical reasoning, orthopaedic assessment, advanced exercise interventions, manual therapy skills and pain science.  These courses are specifically tailored to help graduates attain orthopaedic specialty upon completion of the program.   
The coursework is comprised of the following courses:
Foundations for Advanced Orthopedic Practice
Comprehensive Management of the Lumbopelvic Region
Comprehensive Management of the Lower Extremity
Comprehensive Management of the Cervicothoracic Region
Comprehensive Management of the Upper Quarter
Grand Rounds
Scholarly Project
Course Descriptions
Mentoring Model
Residents participate in a minimum of 150 hours of 1:1 mentoring with a therapist that has received ABPTS certification.  Mentoring occurs in various venues including the residents' and/or the mentors' clinics.  Residents are assigned to their mentor at the start of the program based on location, personal goals and preferred communication style.   Our Mentoring Coordinator assists residents in achieving all mentoring requirements throughout the year. 
Program Goals & Outcomes of Program
Program Goals
The program faculty will develop a curriculum that is evidence-based and focused on the delivery of high-level of quality care to include evaluation, assessment, reassessment, intervention, prevention, and discharge
The program will ensure consistency across clinical sites providing a consistent clinical experience to all residents
Provide opportunity for residents to be active consumers and contributors of scientific literature
Foster the growth of clinicians that exhibit the highest standards of professionalism
Program Outcomes
One of the ultimate goals of the program is to produce graduates that exhibit excellence through both completion of residency programming as well as successful completion of the Board Certification in Orthopedics. Below are the outcomes for our graduates to date since the program's inception in 2007:
Graduation Rate: 93%
1st time Board Certification Pass Rate All-Time: 92%
2022 Board Certification Pass Rate: 94.4%
Overall Pass Rate: 100%
Apply Now
"Something that I highly valued about the residency was the mentorship. I feel that mentorship from an OCS residency trained therapist is an intangible edge for advancing skills in the clinic; both hands on and clinical reasoning. It was the largest pull for me to undergo the residency program. It definitely lived up to my expectations. The modules providing up to date literature and fellowship presentations were also very useful and thorough. They helped me make clinical connections for diagnostic, prognostic, and treatment aspects of each body region. Emphasizing the use of body charts and the importance of a thorough subjective exam has done wonders for increasing patient buy-in, helping with my hypothesis development and organizing the flow of my examination. "
-Josh R
See More Testimonials