Oct 26 |
Fit For Practice – Resilience
What is Resilience? A Definition
Psychology Today describes resilience as "that ineffable quality that allows some people to be knocked down by life and come back stronger than ever. Rather than letting failure overcome them and drain their resolve, they find a way to rise from the ashes."
In a nutshell, resilience can be defined as the ability – and tendency – to "bounce back."
When thinking about resilience, it can be helpful to consider how physical resilience works.
If you go to the gym every day and lift weights, your muscles will grow more resilient to those exercises and you can use those strength gain across other situations such as picking up something heavy at home.
Emotional resilience works in a similar way. When you practice resilience, it's like you're working out your 'resilience muscle', getting stronger every day.
Why is it important?
Strong emotional resilience is shown to be protective and can give people the strength to tackle problems head on and overcome adversity. On the flip side, low resiliency is associated with 4 times increase in burnout.
Do I just need to be Mentally Tough?
Resilience is often used interchangeably with mental toughness, but is it? Mental toughness can be defined as an innate personality trait that determines how an individual deals with stress, pressure, and challenges. As Doug Strycharczyk puts it, "All mentally tough individuals are resilient, but not all resilient individuals are mentally tough."
The Good News:
Resilience is actually more common than you may expect. As the American Psychology Association has said "Research has shown that resilience is ordinary, not extraordinary. People commonly demonstrate resilience." An example is the response communities have after natural disasters. Stressful and difficult times can happen, but individuals will persevere to rebuild their lives.
How to build mental fitness and grow resilience
Since we know that being resilient is such a helpful trait to have, the next logical question is: How do we develop it?
Luckily, resilience is not an absolute, "you have it or you don't" sort of trait. This add-on resilience is often referred to as "self-learned resilience."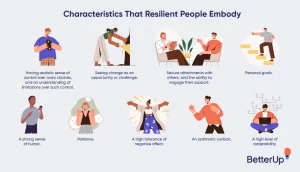 "It's your reaction to adversity, not adversity itself that determines how your life's story will develop."- Dieter F. Uchtdorf
Research shows that individuals who are resilient engage in three specific behaviors. These behaviors help them better cope with challenging situations.
Emotional regulation
This skill is the ability to exert control over one's own emotional state. Developing strong emotional regulation skills helps build resilience. It allows us to keep functioning through a wide variety of internal experiences, including those that are difficult.
For example, having the ability to notice when something a coworker says bothers you lets you pause and decide about how to respond.
Awareness of your feelings allows you to not only manage your emotions but also behaviors for a more constructive solution.
Self-compassion
This behavior is the ability to treat yourself with the same kindness as you would a close friend going through a difficult or stressful time.
It can help support resilience because with self-compassion we find value in ourselves not because of an external judgment, but because you intrinsically deserve care and concern.
For example, consider the reaction you might have if you are denied a promotion to an opportunity you had been striving towards.
Self-compassion allows us to recognize our disappointment, sadness, and insecurity as normal. We allow ourselves to feel it rather than beating ourselves up for both the failure and not being over it the next day.
This doesn't mean self-indulgence, but it acknowledges and honors our feelings in a way that is ultimately strengthening.
Cognitive agility
This skill is the ability to adapt and shift our thought processes in a potentially negative situation to reframe thoughts and choices to lead to more positive outcomes.
It helps support resilience because it allows us to continue functioning regardless of the situation.
For example, consider what happens when you realize you were left off a meeting invitation.
You can choose to tell yourself a story about your coworker purposefully attempting to disrespect you. Or you can recognize this may be the same type of annoying mistake you yourself also often make.
This kind of resilience to shift your mindset will give you the ability to discuss such issues with poise and consideration to the other person's viewpoint.
Utilizing these strategies can help to build your resilience and overcome life's inevitable obstacles.
For more information on opportunities with Upstream Rehabilitation, click here!
Clough P, Strycharczyk D. Developing Mental Toughness: Improving Performance, Wellbeing and Positive Behaviour in Others. 2012.
https://uncw.edu/studentaffairs/committees/pdc/documents/the%20road%20to%20resilience.pdf
https://pubmed.ncbi.nlm.nih.gov/12964174/