Apr 25 |
Barrett Stanley, PT, DPT, OCS, CSCS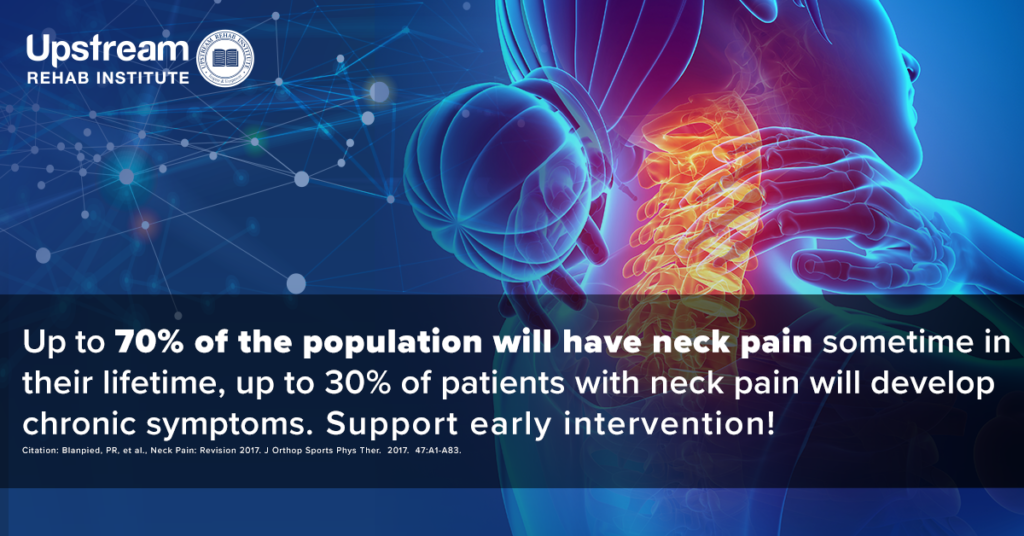 Neck pain is a common pathology that is experienced by many individuals. It has been reported that up to 70% of the population will have neck pain some time in their lifetime. There is also research that has reported up to 30% of patients with neck pain will develop chronic symptoms. Patients with neck pain in the outpatient rehabilitation setting make up about 25% of those seeking physical therapy care.
There are many variations of how to define neck pain in the literature and with this variability comes inconsistent language, especially among treating clinicians. There are potentially many structures that could contribute to or be the source of a patient's nociception anatomically. The updated clinical practice guidelines for neck pain have suggested that when assessing patients with neck pain, clinicians should use impairments of a body function to establish baselines and create a plan of care.
When using appropriate medical screening, the clinician is to determine one of three possibilities for the patient:
Option 1: Appropriate for physical therapy evaluation and intervention.
Option 2: Appropriate for physical therapy evaluation and intervention in conjunction with consultation with another healthcare provider.
Option 3: Not appropriate for physical therapy evaluation and will be referred to another healthcare provider.
Red flag screening should also be performed routinely to identify potentially serious pathology. Potential red flag pathology includes infection, cancer, cardiac pathology, arterial insufficiency, upper cervical ligamentous insufficiency, unexplained cranial nerve dysfunction, or fracture.
When options 1 or 2 above are appropriate, the clinician is recommended to use the following updated classification system for patients with neck pain.
Diagnosis
NECK PAIN WITH MOBILITY DEFICITS
Common Symptoms:
Central and/or unilateral neck pain
Limitation in neck motion that consistently reproduces symptoms
Associated (referred) shoulder girdle or upper extremity pain may be present
Expected Exam Findings:
Limited cervical ROM
Neck pain reproduced at end ranges of active and passive motions
Restricted cervical and thoracic segmental mobility
Intersegmental mobility testing reveals characteristic restriction
Neck and referred pain reproduced with provocation of the involved cervical or upper thoracic segments or cervical musculature
Deficits in cervicoscapulothoracic strength and motor control may be present in individuals with subacute or chronic neck pain

NECK PAIN WITH MOVEMENT COORDINATION IMPAIRMENTS (WAD)
Common Symptoms:
Mechanism of onset linked to trauma or whiplash
Associated (referred) shoulder girdle or upper extremity pain
Associated varied nonspecific concussive signs and symptoms
Dizziness/nausea
Headache, concentration, or memory difficulties; confusion; hypersensitivity to mechanical, thermal, acoustic, odor, or light stimuli; heightened affective distress
Expected Exam Findings:
Positive cranial cervical flexion test
Positive neck flexor muscle endurance test
Positive pressure algometry
Strength and endurance deficits of the neck muscles
Neck pain with mid-range motion that worsens with end-range positions
Point tenderness may include myofascial trigger points
Sensorimotor impairment may include altered muscle activation patterns, proprioceptive deficit, postural balance or control
Neck and referred pain reproduced by provocation of the involved cervical segments

NECK PAIN WITH HEADACHE (CERVICOGENIC)
Common Symptoms:
Noncontinuous, unilateral neck pain and associated (referred) headache
Headache is precipitated or aggravated by neck movements or sustained positions/postures
Expected Exam Findings:
Positive cervical flexion-rotation test
Headache reproduced with provocation of the involved upper cervical segments
Limited cervical ROM
Restricted upper cervical segmental mobility
Strength, endurance, and coordination deficits of the neck muscles

NECK PAIN WITH RADIATING PAIN (RADICULAR)
Common Symptoms:
Neck pain with radiating (narrow band of lancinating) pain in the involved extremity
Upper extremity dermatomal paresthesia or numbness, and myotomal muscle weakness
Expected Exam Findings:
Neck and neck-related radiating pain reproduced or relieved with radiculopathy testing: positive test cluster includes upper-limb nerve mobility, Spurling's test, cervical distraction, cervical ROM
May have upper extremity sensory, strength, or reflex deficits with the involved nerve roots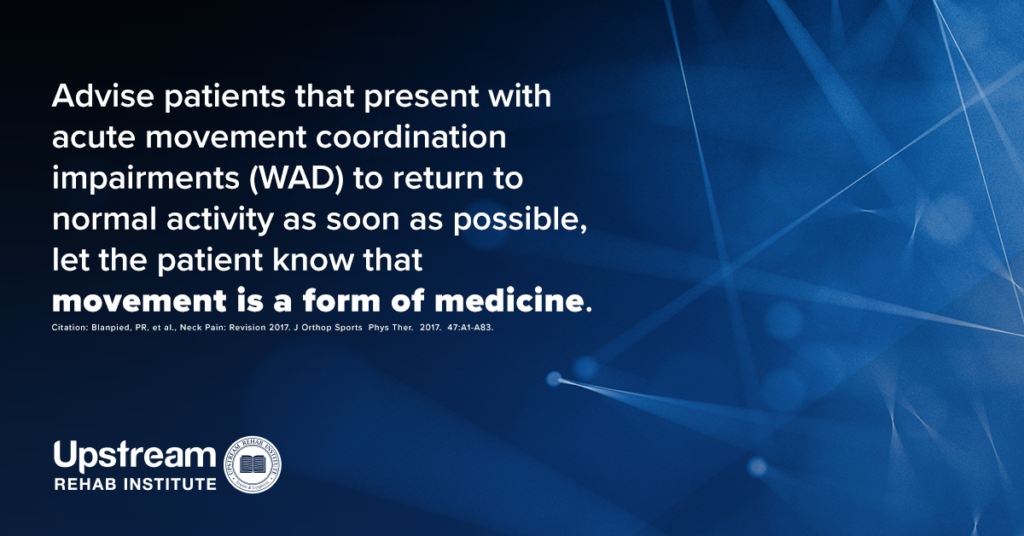 Intervention
NECK PAIN WITH MOBILITY DEFICITS
Acute: Recommendations for patients who present acutely include thoracic manipulation and ROM exercises of impairment areas uncovered during the evaluation. Progression into scapulothoracic and upper extremity strengthening is recommended to supplement programmed range of motion exercise. Cervical spine manipulation or mobilization may also be added to the patient's program at this stage.
Subacute: When a patient presents with neck pain and mobility deficits subacutely the addition of neck and shoulder girdle endurance exercises should be added to the plan of care. Continue to provide thoracic manipulation and cervical manipulation or mobilization to continue to normalize range of motion.
Chronic: For patients who have mobility deficits that present chronically (greater then 12 weeks) there is more of a necessity for a multimodal approach. Thoracic and cervical spine manipulation or mobilization is still warranted. A mix of exercises focused at the cervical and scapulothoraic regions addressing coordination, proprioception, postural training will optimally benefit the patient. To assist with this multimodal approach it is recommended to consider dry needling, laser, or intermittent mechanical/ manual traction to improve the patient's functional impairments. Education to the patient promoting an active lifestyle and addressing cognitive and affective factors are essential to implement as well.

NECK PAIN WITH MOVEMENT COORDINATION IMPAIRMENTS (WAD)
Acute: Clinicians are recommended to advise patients that present acutely with movement coordination impairments to return to normal activity as soon as possible. This should be non-provocative activity and there should be minimal use of a cervical collar. Education is also important to let the patient know that movement is a form of medicine. Advocate for performing mobility exercises and postural retraining to decrease pain and improve range of motion. When it is suspected that the patient is going to have a moderate to slow recovery it is advised to utilize manual intervention in conjunction with interventions that reduce the patient's symptoms.
Chronic: When patients present with chronic symptoms it is recommended that education and advice be a significant focus. Education should include assurance, encouragement, prognosis, and pain management utilizing principles of cognitive behavioral therapy to guide treatment. The clinician should implement an individualized mobilization approach to the cervicothoracic region coupled with submaximal exercise addressing mobility, endurance, flexibility, strength, and coordination impairments.

NECK PAIN WITH HEADACHE (CERVICOGENIC)
Acute: Based on moderate level evidence, patients who present with acute headache symptoms are advised to receive supervised active mobility exercise. Clinicians also may consider using C1-2 self-sustained natural apophyseal glides (SNAG) to help modulate a patient's symptoms, however, this approach has weaker evidence to support its efficacy.
Subacute: When a patient presents with subacute headache symptoms there is moderate evidence to support cervical manipulation and mobilization with possible utilization of C1-2 SNAG exercises.
Chronic: The recommendation for patients with chronic headaches is to implement cervical and possibly thoracic manipulation or mobilization. This treatment should be an adjunct to flexibility intervention and strengthening directed at the shoulder girdle and neck.

NECK PAIN WITH RADIATING PAIN (RADICULAR)
Acute: There is weak evidence to support mobilizing the cervical spine and use of stabilization and laser in patients presenting with acute neck pain and radiating symptoms. Use of a cervical collar if necessary should be only used for a short time.
Chronic: Again, for patients who present with chronic pain, the recommendation to resume daily activity should be emphasized. Exercises should promote function and focus on participation in daily activities. The clinician may use mechanical intermittent cervical traction to reduced symptoms. Thoracic and cervical mobilization and manipulation is advised along with stretching and strengthening of the upper quarter and cervical spine.
Conclusion
Clustering clinical findings is a useful way to describe and treat impairments found in patients who present with neck pain. When patients are classified based on their symptoms it provides the most optimal intervention strategy and patient outcome. It is understood that patients can present with many different variables, which could potentially place them in more than one classification, or their presentation may change during the course of the patient's plan of care. The recommendation would be to choose the classification that best fits the patient's presentation at the time and continue to re-evaluate their symptoms and address their symptoms accordingly. As a patient progresses throughout their plan of care, they will move into more functional exercises aimed at returning them toward their activities of daily living and specific work and recreational tasks.
REFERENCE
R. Blanpied et al., Neck Pain: Revision 2017. J Orthop Sports Phys Ther 47, A1-A83 (2017).
Continuing Education Courses to consider: CT: Comprehensive Management of the Cervicothoracic Region